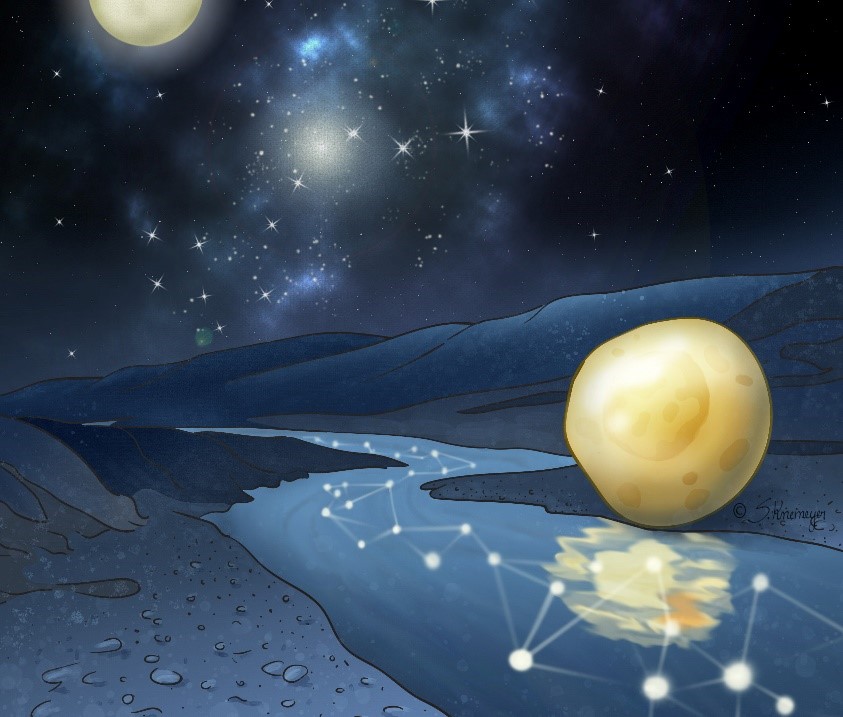 Figure: An artistic representation of single-cell RNA sequencing. The
stars in the sky represent cells in a heterogeneous tissue. The projection of
the stars onto the river reveals relationships among them that are not apparent
by looking directly at the sky. Like the river, our Bayesian model, called scVI,
reveals relationships among cells.

The diversity of gene regulatory states in our body is one of the main reasons
why such an amazing array of biological functions can be encoded in a single
genome. Recent advances in microfluidics and sequencing technologies (such as
inDrops) enabled measurement of gene expression at the single-cell level and has
provided tremendous opportunities to unravel the underlying mechanisms of
relationships between individual genes and specific biological phenomena. These
experiments yield approximate measurements for mRNA counts of the entire
transcriptome (i.e around $d = 20,000$ protein-coding genes) and a large number
of cells $n$, which can vary from tens of thousands to a million cells. The
early computational methods to interpret this data relied on linear model and
empirical Bayes shrinkage approaches due to initially extremely low sample-size.
While current research focuses on providing more accurate models for this gene
expression data, most of the subsequent algorithms either exhibit prohibitive
scalability issues or remain limited to a unique downstream analysis task.
Consequently, common practices in the field still rely on ad-hoc preprocessing
pipelines and specific algorithmic procedures, which limits the capabilities of
capturing the underlying data generating process.
In this post, we propose to build up on the increased sample-size and recent
developments in Bayesian approximate inference to improve modeling complexity as
well as algorithmic scalability. Notably, we present our recent work on deep
generative models for single-cell transcriptomics, which addresses all the
mentioned limitations by formalizing biological questions into statistical
queries over a unique graphical model, tailored to single-cell RNA sequencing
(scRNA-seq) datasets. The resulting algorithmic inference procedure, which we
named Single-cell Variational Inference (scVI), is open-source and
scales to over a million cells.